Rebovich Institute for New Jersey Politics
UPCOMING EVENT DETAILS
THE ROAD TO TRENTON RUNS THROUGH RIDER:
Assemblyman; Chairman, Assembly Transportation Committee; and possible candidate for New Jersey governor
Thursday, December 3, 2015, at 7 p.m.
Rider University, Mercer Room (located within Daly Dining Hall)
2083 Lawrenceville Road, Lawrenceville, NJ 08648
6 p.m. – Light reception
7 p.m. – Presentation, followed by Q&A
RSVP to Susan Cuccia at 609-896-5350 or scuccia@rider.edu
Free and open to the campus community and the public.
POST EVENT DETAILS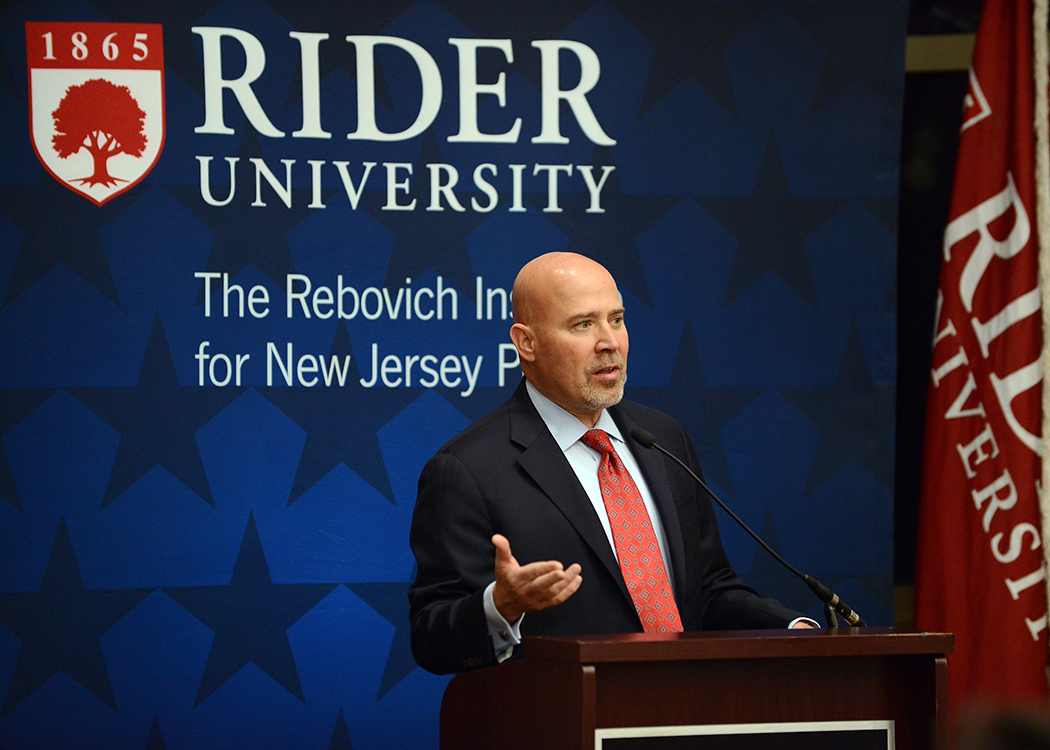 REPORT FROM WASHINGTON, D.C.: An Evening with Hon. Tom MacArthur
Nov. 23, 2015: The Republican congressman from New Jersey's 3rd congressional district visited Rider for a discussion and Q&A.
A video of the event is now available.
POST EVENT DETAILS
The Prize: An Evening with Author Dale Russakoff
Oct. 28, 2015: The author of The Prize: Who's In Charge of America's Schools? visited Rider to discuss her book, which tells the inside story of Facebook founder Mark Zuckerberg's $100 million gift to transform Newark's schools, and what it accomplished and what it didn't.
About the Institute
The Rebovich Institute for New Jersey Politics is dedicated to public service and scholarly analysis of government, public policy, campaigns and elections in New Jersey.
Founded in 2001 by the late Professor David Rebovich (1949–2007), the Institute is a dynamic and creative home where students can network, study and gain practical experience in New Jersey politics. In 2008, Ben Dworkin was named the new director of the Institute for New Jersey Politics. In September, the Institute was renamed the Rebovich Institute for New Jersey Politics.
An integral component of the Institute's success is the active participation of Rider students in all of our programs. The Institute is committed to assisting students with research projects, internships, service learning opportunities, job placement, and overall career development.
Typical programs include:
Panel discussions and debates
Major talks by invited guests
Research presentations
Formal and informal discussions with political candidates, officeholders, policy and issue advocates
Professional development workshops for students, community leaders, public officials and staff, and faculty
Professor Ben Dworkin on Chris Christie's Presidential Campaign
For inquiries about radio, print and television interviews, as well as any other questions, please contact Kristine Brown, Rider University's Director of Media Relations, at kbrown@rider.edu or 609-896-5000 ext. 7260.
For more on Professor Dworkin's perspective on Christie's campaign, including radio actualities and other media, please visit his faculty expert page on Rider's website.